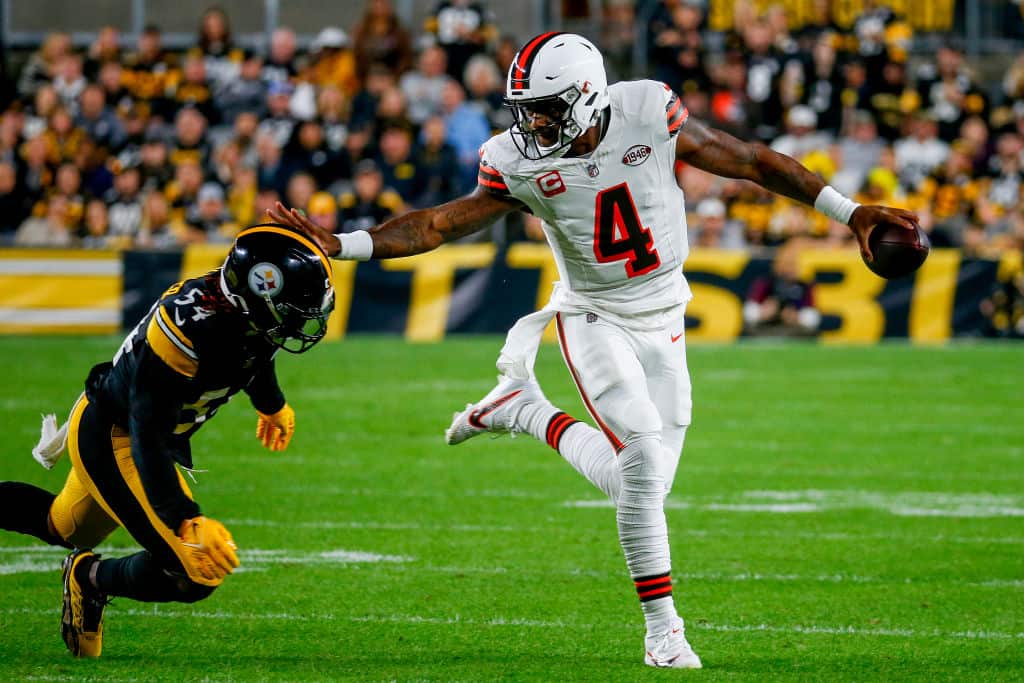 The Cleveland Browns lost more than just a game vs. the Pittsburgh Steelers.
On top of losing star running back Nick Chubb for the remainder of the season, there was a minor possibility they could also lose QB Deshaun Watson for at least one game.
Watson drew plenty of criticism for holding back a drive after being called for an avoidable and unnecessary personal foul for a face-mask penalty, and it proved to be a costly mistake.
Later, the Clemson alumni shoved an official on the sidelines, which led to people thinking the league could look to make an example out of it.
With that in mind, ProFootballTalk reported that the league would assess his two personal fouls and the shoving of the official on Monday before coming up with a decision.
On the possibility of Deshaun Watson's two blatant face mask fouls and his shove of an official possibly resulting in a suspension, source says this: "All plays will be evaluated and assessed today."

— ProFootballTalk (@ProFootballTalk) September 19, 2023
Truth be told, one would expect any player to engage in this kind of behavior except your starting quarterback, a guy who's supposed to lead by example.
Also, it's not like Watson is on the NFL's good side right now, as he's coming off serving an 11-game suspension for his legal turmoil.
However, Tom Pelissero reported later on that the quarterback would avoid the worst-case scenario of a suspension.
So no suspension or other discipline expected for #Browns QB Deshaun Watson related his contact with an official. Watson could be fined for two facemask penalties. But he'll be able to play Week 3 vs. the #Titans. https://t.co/55DRRH9W4m

— Tom Pelissero (@TomPelissero) September 19, 2023
The Browns cannot afford not to have their best players on the field, not even for a single snap.
And while rookie QB Dorian Thompson-Robinson looked quite solid in the preseason, he's still not ready to take the field and lead the offense, especially if he won't have Chubb by his side to rely on him.
Hopefully, this will be the last we hear of this incident.

#Deshaun #Watson #Avoids #Suspension #Actions #Steelers #Game