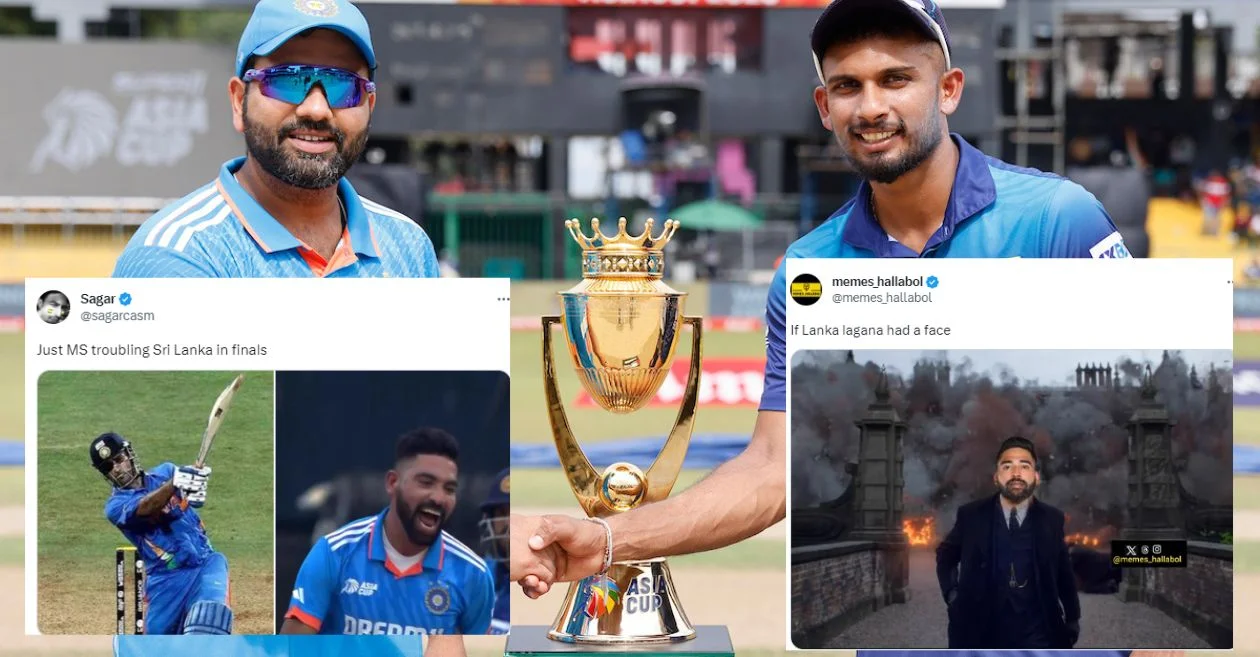 In an electrifying showdown at the R.Premadasa Stadium in Colombo, India emerged as the champions of the Asia Cup 2023, completely annihilating Sri Lanka in a one-sided final. While the match itself was a no-contest, social media platforms were set ablaze with hilarious memes capturing the essence of the game.
The world of social media experienced a surge in creativity as fans and meme enthusiasts took to platforms like X (formerly Twitter) to craft witty, humorous, and at times, downright hilarious memes. These digital masterpieces captured the spirit of the match, highlighting key moments and player expressions.
Mohammed Siraj wreaks havoc with brilliant bowling
Speaking about the game, Sri Lanka's innings turned into a nightmare, with the Indian bowlers proving too hot to handle. Pathum Nissanka managed a mere 2 runs off 4 balls, Kusal Perera departed for a golden duck, and Kusal Mendis top-scored with 17 runs off 34 balls.
The Sri Lankan batting lineup collapsed, managing a paltry total of 50 runs in 15.2 overs. Mohammed Siraj was the star for India, taking a remarkable 6 wickets for just 21 runs in his 7 overs, while Jasprit Bumrah contributed with 1 wicket for 23 runs in 5 overs. Hardik Pandya and Kuldeep Yadav also chipped in with crucial wickets.
Also READ: Asia Cup 2023 Final – Complete list of award winners and the details of prize money
India's clinical chase
Chasing a modest target of 51 runs, the Indian openers, Ishan Kishan and Shubman Gill, displayed their class and composure. Kishan scored 23 runs off 18 balls, featuring 3 boundaries, while Gill contributed 27 runs off 19 balls, smashing 6 fours. India comfortably reached the target in just 6.1 overs without losing a wicket.
Here are some of the funniest memes from India versus Sri Lanka clash:
Gotta agree. pic.twitter.com/nO7whERvWL

— Silly Point (@FarziCricketer) September 17, 2023
Just MS troubling Sri Lanka in finals pic.twitter.com/PsQngj3evQ

— Sagar (@sagarcasm) September 17, 2023
Srilanka batting today #INDvsSL pic.twitter.com/bWMwhO8pHP

— Ankittt (@ihyankit) September 17, 2023
Ground staff of Colombo right now pic.twitter.com/o2cprxXaBj

— Raja Babu (@GaurangBhardwa1) September 17, 2023
Colombo audience who reached few mins late due to rain. #INDvSL | #Siraj pic.twitter.com/By0hoNSpJz

— Rajabets 🇮🇳👑 (@smileagainraja) September 17, 2023
Full support baazi 💓#AsianCup2023 pic.twitter.com/y6Q5RN0fq5

— अजमेरी (@ajmeripoet) September 17, 2023
If Lanka lagana had a face pic.twitter.com/20k9BJDH8x

— memes_hallabol (@memes_hallabol) September 17, 2023
Siraj miyan to Srilanka pic.twitter.com/xv8K3xsR2k

— Divakar Sharma (@bOYBhaYankar) September 17, 2023
#INDvsSL

Aao Karo batting first : pic.twitter.com/HMjCiXoRdU

— S H i V A M 𝕩 🔥 (@eternal_shivam) September 17, 2023
#INDvSL

Mohammad siraj with 6wickets against sri lanka team:- pic.twitter.com/4joyxQrJNm

— Pintu💙 (@Pintuu0) September 17, 2023
#INDvSL
Srilankan batsamn RN* pic.twitter.com/mpUMzkHi0F

— S A W A N (@Theboysthing) September 17, 2023
Siraj to Sri Lankan team rn –#INDvsSL #AsiaCup2023final pic.twitter.com/g4f7LSIF4c

— Puja 🥂 (@winnie_the_puja) September 17, 2023
Mohammad Siraj after taking wicket number 1, 3, 5 & 6 #INDvSL pic.twitter.com/4wMxq66iqr

— Godman Chikna (@Madan_Chikna) September 17, 2023
*Siraj comes to the bowl*

Sri Lankan batsman : pic.twitter.com/s3HtaxJvdT

— Harshhh! (@Harsh_humour) September 17, 2023
🤣🤣🤣 pic.twitter.com/QsqAISxE0A

— CS Rishabh (Professor)👍 (@ProfesorSahab) September 17, 2023
Rohit Sharma heaps praises on Mohammed Siraj
After the game, Indian skipper Rohit Sharma expressed his admiration for the exceptional effort put in by India's seamers. In particular, Rohit heaped praise upon Siraj, acknowledging his pivotal role in the team's success.
"Such a performance we will cherish for a long time. I never thought it's going to do that much. Comes down to the skillset of individuals. Siraj has to be given a lot of credit. Rare for seamers to move the ball in the air and off the pitch. He's coming off age," said Rohit at the post-match presentation.
Also READ: Cricket world goes berserk as India demolish Sri Lanka to record biggest win in an ODI final – Asia Cup 2023, IND vs SL